Cooking Eggs On Your Own (No Oven or Microwave Required)
Thursday, April 12, 2018 5:30 pm - 6:30 pm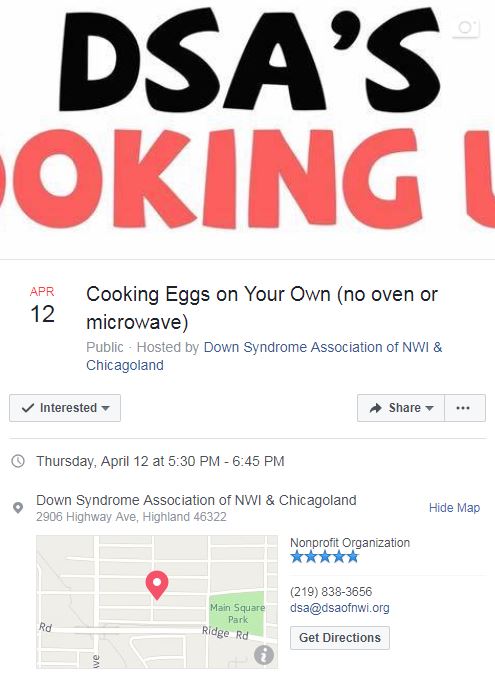 Location:
2906 Highway Ave, Highland, IN 46322
Description:
Join us at the DSA for a Cooking Up cooking class! We will be learning how to make an omelet, poached egg, and hard boiled egg SAFELY (individuals with disabilities on their own)using DASH! Lots of great ideas for breakfast, lunch and dinner!

The best part is we're working around the Chit Chat groups so your child, teen or adult can cook and participate in Chit Chat (speech groups).

DSA's Cooking Up®, a monthly educational learn-to-cook club, offers a chance to explore food in our kitchen space. This program teaches practical reading and math through measuring, grocery shopping, and budgeting; life skills and independence through meal planning, kitchen prep, cleaning up, and serving.

Ages 10&Up: 5:30-6:15pm

Ages 10&under: 6:00-6:45pm

*This is two or our nine free DSA programs!


Contact Information:
Down Syndrome Assoc. of NWI & Chicagoland