2nd Annual Road Rally Scavenger Hunt
Saturday, October 14, 2017 9:00 am - Sunday, October 15, 2017 1:00 pm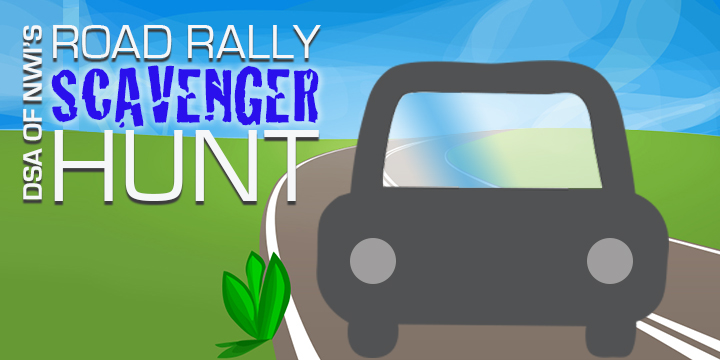 Location:
DSA of NWI Office | 2906 Highway Avenue, Highland, IN 46322
Description:
Looking for a fun DSA family event? We're hosting our 2nd Road Rally Photo Scavenger Hunt! It's a great way to explore some sights in NWI.

So, what is a Road Rally Photo Scavenger Hunt? Well, it's a little bit like the reality TV show "Amazing Race". Teams (4-6 people) drive around in cars following clues, complete tasks challenges, and try to be the first team to the finish line. We will have 21 clues to complete!

Each team will be given a list of 21 clues to start the race. Teams will have to figure out where that clue is sending their team in order to find the next clue. Sometimes the clue is direct and tells you to go to a specific place, other times the clue is vague or filled with riddles you must decipher. When you finally find the clue spot, take a picture and send it in!

You get points based in when you send in your pictures. Get the most points and win!

Start and finish at the DSA Office!

Teams (typically 4-6 can fit in a car) need to include one Buddy (person with disability)

Teams may decorate their car and/or come up with their own team name, decorate shirts or wear their Buddy Walk shirts!

Team must remain together through the entire event and cannot use multiple vehicles.

Your team will need a smart phone with camera to compete!

There will be prizes and hot dogs/hamburgers at the end!
This form stopped accepting submissions on October 1, 2016 9:00 am CDT.