DSA of NWI's 2017 Buddy Walk
Sunday, September 24, 2017 8:00 am - 4:00 pm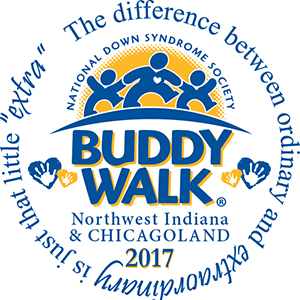 Location:
Lake County Fairgrounds, Crown Point, IN 46307
Description:
You MUST be registered to participate in the 2017 Buddy Walk at the Lake County Fairgrounds. Preregistration is encouraged for discounted rates and easy access to the Fairgrounds the day of the event; however, onsite registration will also be available.

Deadline to register at discounted rates is July 31st.

Registration rates increase on August 1st.

Member rates remain the same.

To become a member of the DSA of NWI & South Chicagoland: BECOME A NEW MEMBER


Deadline to receive a 2017 Buddy Walk t-shirt was August 25, 2017. No one will receive a t-shirt past this registration date. Prices have been reduced accordingly.

Event Times:
Registration: 8:00 am
5K Race: 9:00am
Buddy Dash: 10:00am
Main Buddy Walk: 10:30am

Sponsors:
Want your logo here? Check out our Sponsorship Packages.

Can't Make the Walk?
Create your own donation page and help spread awareness and raise money for the DSA of NWI.
Make a donation to one of our VIP Buddies Donation Page.
Sign up as a vendor, by clicking the "Buddy Walk Registration" button below.

However you choose to support the DSA of NWI's 2017 Buddy Walk, we thank you for your commitment to the Down Syndrome Association of Northwest Indiana & Chicagoland.


This form is currently unavailable. Try again later.
Contact Information:
Down Syndrome Association of Northwest Indiana & South Chicagoland